Eureka Springs

Wedding Receptions

Wedding Receptions at the Inn of the Ozarks, The Perfect Setting for the Perfect Day

Inn of the Ozarks Resort is the ideal location for your Wedding Reception in Eureka Springs. We can assist you with every aspect of your reception. Our professional staff has the experience that you need to make your reception the most special day of your life. An experienced hostess will be present to assist you and direct the staff for a trouble-free event.

The Cake Table is the focal point of any reception. Let us add that special touch to your day with a wedding cake that you design, Almond Crush Punch, Handmade Wedding Mints and Mixed Nuts, Silver Punch Bowl and Dishes, Candelabras and accented by white lights that will bring out the sparkle in your eyes.

Inn of the Ozarks can provide elegant plated meals with decorative table furnishings to more casual buffet dining. If Hors D'oeurves are more in line with your dream reception, we provide many choices to accommodate you or if you wish, we can cost out any specialty item you wish. We pride ourselves on top service, so if you can dream it, we can deliver it!

Following are other services that we can work closely with you on during the planning process:
Cake Table
Flowers
Centerpieces
Beverages, Including alcohol, kegs, full bars
Hors D'oeurves or full meal service
Photographers
Ice Sculptures
Dance Floor
DJ, Band, or String Instruments
Decorations
Groom's Cake
Inn of the Ozarks Reception Facilities
We are proud to offer the following reception and banquet facilities located in our Convention Center and hotel grounds here at the Inn of the Ozarks Resort.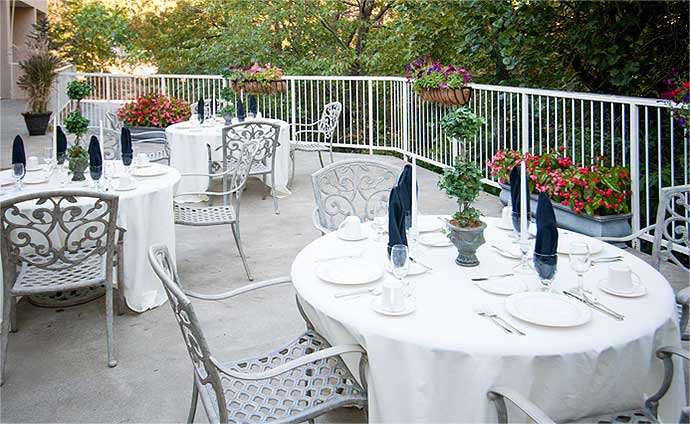 Tree-Top Lined Terrace
Located on the secluded backside of our Convention Center, this tree-top lined Terrace offers a romantic setting where the birds and squirrels are known to attend the ceremony! The Terrace can accommodate up to 100 guests, but is perfect size also for 20 close friends.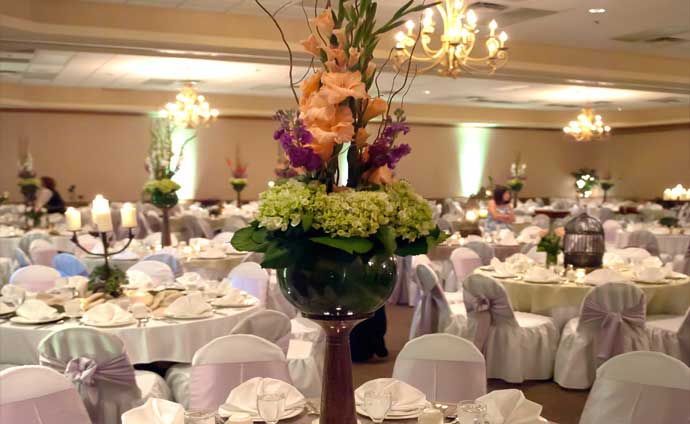 Forest Manor Ballroom
Invite 700 of your closest friends to take part in your happiest day. Ballroom is decorated nicely with chandeliers and can lights that can be brightened or dimmed according to your mood specifications. Built-in sound equipment and state-of-the-art Audio-visual equipment add for a special touch where everyone can hear the vows. Or if you wish, a celebration film could be shown of the bride and groom. The Ballroom can be reduced in size if needed for smaller groups.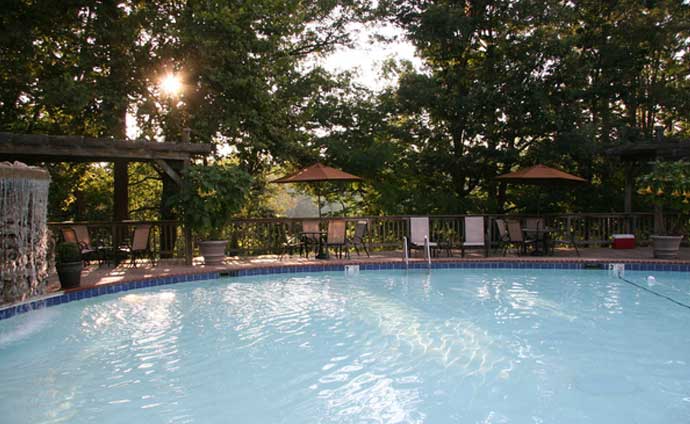 Poolside
Have your ceremony beside our tree-lined pool with waterfall and arbors as a backdrop. There is room for seating of up to 75 people.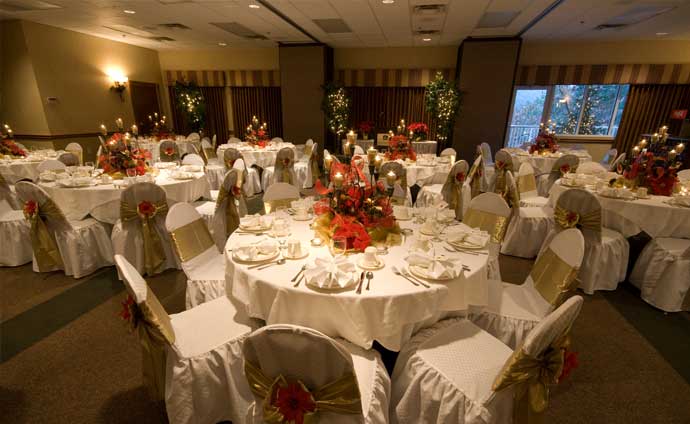 The Woods
Another nicely decorated, romantic location in our Convention Center. The room has beautiful wall coverings with sconce lighting that can dim to your specifications. Sound and Audiovisual equipment are also available. Room can accommodate up to 120 people.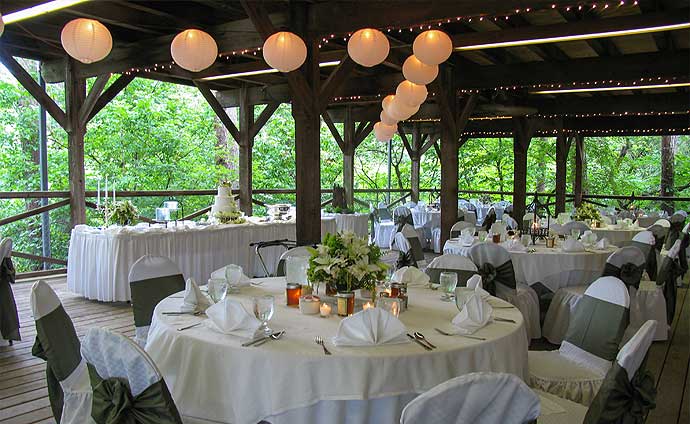 Pavilion
If you are looking for a casual rustic setting, our Pavilion is the perfect ceremony location. The Pavilion is tree-lined and opens to the Valley below. Perfect for evening or morning ceremonies.